Véhicules professionnels
How do you best power your mobile business?
The solution is powered by know-how. With over 45 years of experience we've learnt how to balance quality and price without ever compromising performance. Our customers value the reassurance and reliability that our power solutions deliver. They know we don't cut corners, they know our family run business is built on a foundation of trust they can always depend on.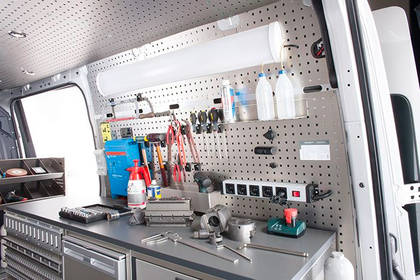 The right tools.
Le bon investissement.
The right tools for the job deserve the right power system on-board. One that does exactly what you need it to, when you need it to. One that lives up to its specifications time after time. After 45 years of problem solving and innovation, we know what it means to live up to the highest standards. Our extensive know-how in the automotive sector means we have the confidence to provide a 5 year warranty which gives the end-user satisfaction of a solid investment for years to come.
Complete control from anywhere.
New opportunities everywhere.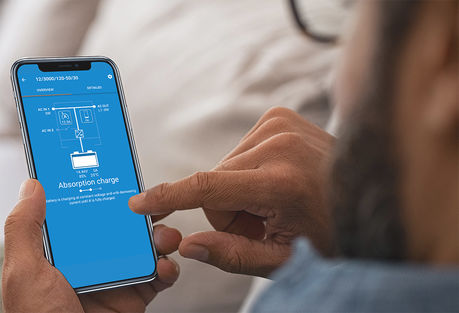 Whether your 'tool' of choice is an ambulance, mobile traffic sign or TV-broadcast station, you always want to be in complete control of your power situation. Thanks to the know-how that powers our connected products, you can monitor your vehicles, optimise your systems and resolve challenges from our App from wherever you are. Our remote monitoring solutions offer new business opportunities for service professionals, such as pro-active service and maintenance contracts.
Consommation
With Victron Energy you have one of the widest ranges of power supply equipment available to power your works of genius. Our up-to-date solutions counter most typical automotive issues and can be fine-tuned to your specific needs. The possibilities are endless, here are a few examples to start with:
Typical professional automotive issues
How to solve them.
Our team of professionals always stay in close contact with our customers. Over the past 45 years we've got to know automotive power inside out. This close working relationship has helped to create some of the best automotive power solutions available today.
Always on.
Always ready.
When seconds can save a life, the importance of a reliable mobile power system cannot be underestimated. Our robust systems have been proven to deliver unequalled reliability time and time again. This is marked by our worldwide market leadership in power supply equipment for Ambulances. Our entire modular range is all built with the same quality, so if your system is an ambulance or an ice-cream truck, with Victron Energy it's always ready for action.
Power peaks
Powered right.
Professional power tools can demand surges of peak power temporarily, especially when they start-up. Victron Energy Professional duty inverters all come with a very high peak power performance, on average twice their continuous power specifications. The Pure Sine Wave technology safely powers sensitive electronics such as computers. This means you can power any load, anytime, anywhere, problem free.
Smart alternators.
Smarter charging.
Euro 5/6 engines are the new standard in the business fleet and come with smart (variable voltage) alternators, controlling the output based on vehicle operating conditions. This renders it unsuccessful at charging a secondary battery system to a usable level. Our wide range of DC-DC chargers and Smart BMS products ensure both lead-acid and lithium service batteries can be properly charged, without damaging the smart alternator or batteries. In fact, with Victron Energy you can safely combine any alternator with any service battery.
Batteries.
Long Live Batteries.
Thanks to 45 years of battery development expertise, our products offer great protection, maximum care. They use the best adaptive charging algorithms for batteries of any kind, with a great service life as a result. Victron Energy offers professional quality batteries with high performance characteristics that are thoroughly tested. Our datasheets offer a complete picture of the performance and expected cycle design life, meaning no investment surprises along the way.
Suboptimal sun,
optimal solar panel yield.
Solar panels on vehicles come with specific challenges: space is often limited and shadows change quickly on the road. Therefore the solar performance changes constantly. Victron Energy solar controllers use ultra fast maximum power point tracking to squeeze every drop of power out of your panels. Solar keeps your batteries ready for action and reduces the need for electrical power generated by your engine.
More energy,
smaller generator.
Fuel can be a big part of your budget. Victron Energy products optimize generator use and minimize its running time. Often, you can even opt for a smaller generator. This means you save on installation, maintenance and fuel costs.
Smart BMS CL 12/100 Orion TR Smart DC-DC Charger Safely combine any alternator with Smart Lithium batteries Compact Battery Management System and integrated Current Limiter in one Safely combine any alternator with any service battery Professional DC to DC adaptive 3-stage charger

Garantie de 5 ans
Travaille avec VictronConnect
Engine running detection